Improve the nutritional uptake efficiency of plants
Improved crop performance
Increase seed germination
Enrich the soil
Increases yield significantly and improves quality of plants
Megrendelem a terméket
Features
BactoVit microbiological crop enhancing product. By using BactoVit the quality of the soil structure will improve, the amount of the crop will significantly grow. The condition of the plants will strengthen, crops will be more resistant against extreme weather.
BactoVit is a crop enhancing microbiological product designed to mobilize organic and anorganic nutrients which are tied up in the soil and are unabsorbable for plants.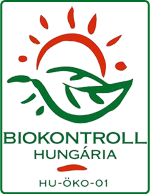 Composition: nutrient solution, water and a combination of 19 kinds of microorganisms mixed in various ratios. It is a tan, herb-scented, water-like viscosity solution, containing live microbes.
Dose:
Applicable for all arable and horticultural culture soil treatment spread in a 2 litres/ha 300-500 litres of water ratio.
To be applied for potted ornamental plants, ornamental trees and shrubs by irrigating in 1% concentration.
BioKontroll Hungaria NonProfit Kft. hereby verifies, that Fermentstart, BactoVit and BioMax, marketed by Agribiotech Hungary Kft. is in accordance with the Council Regulation (EC) No 834/2007 and Comission Regulation (EC) No 889/2008 so this can be used in organic farming.

Biokontroll Confrirmation248.53 KB
---
Registration, documentation, reports:

BactoVit NEBIH forgalomba hozatali és felhasználási engedélyokirat

BACTOVIT BIZTONSÁGI ADATLAP

Kisérleti eredmények BactoVittel Szója

Kisérleti eredmények Bactovittel Tavaszi búza

Kisérleti eredmények Bactovittel Paprika
Webshop: rendelje meg most a készítményt.