Increased yield significantly
Improves quality of plants
Improves the soil structure and the water-holding capacity
Increases and stimulates beneficial micro-organisms
Enhances the cation exchange capacity (CEC)
Increases the effectiveness of fertilizers and reduces nutrient especially nitrate leaching
Increases the permeability of cell-membranes in the roots and increases nutrient uptake
Acts as a natural acclerator for micro-elements in alkaline soils and increases their availibility for plants
Features
BioMax soil conditioner product.
The product contains naturally produced macro (N,P,K) and micro elements (Mg, S, Fe, B, Mn, Cu, Mo, Zn) as well as amino acids and naturally produced humic acid. Its components are included in a dilutable and phisiologically active form in the product.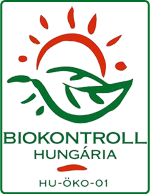 BioKontroll Hungaria NonProfit Kft. hereby verifies, that Fermentstart, BactoVit and BioMax, marketed by Agribiotech Hungary Kft. is in accordance with the Council Regulation (EC) No 834/2007 and Comission Regulation (EC) No 889/2008 so this can be used in organic farming.

Biokontroll Confrirmation248.53 KB
---
Dose:
Recommended for soil treatment of all arable and horticultural culture. Applying BioMax 2-3 times a year, after leaf forming and before maturity (5-10 litres/ha with the appropriate amount of water.)
BioMax can be mixed with herbicid, fungicid and insecticid, the combined spraying will not reduce the effect of the product.
---
Registration, documentation, reports:

Biomax forgalombahozatali és felhasználási engedély

BIOMAX BIZTONSÁGI ADATLAP

Kisérleti eredmények Biomax Paprika

Kisérleti eredmények Biomax Tavaszi árpa
Webshop: rendelje meg most a készítményt.