Safe, eco-friendly, health-friendly product
Composting - high nutrial content manure
Significant or complete disappearance of unpleasant odors
Fermentation of stubble - effective fertilization
Features
FermentStart chemical-free microbiological product. The product is a mixture of carefully selected and adapted, probiotic and synergistic microorganisms. Suitable for deodorization, treating hutches, composting, demolishing stubble and for animals as feeding it into troughs.
FermentStart contributes to the protection of the natural biological environment and to the preservation of animals' health.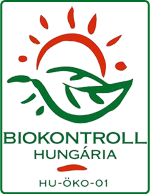 BioKontroll Hungaria NonProfit Kft. hereby verifies, that Fermentstart, BactoVit and BioMax, marketed by Agribiotech Hungary Kft. is in accordance with the Council Regulation (EC) No 834/2007 and Comission Regulation (EC) No 889/2008 so this can be used in organic farming.


Biokontroll Confrirmation248.53 KB
---
Composition: nutrient solution, water and a combination of 17 kinds of microorganisms mixed in various ratios. It is a tan, herb-scented, water-like viscosity suspension, containing live microbes.
Dose:
For composting: 100 litres of diluted product is sufficient for composting approximately 1 ton of organic waste or treating approximately 1 ton of fertilizer.
Following each placement of the fresh waste the solution is to be sprayed thoroughly by layers Depending on weather conditions a valuable compost will be received within 30-90 days.
Treating slurry or cesspits: 1-2 litres of the product/m3.
For deodorization: 1-2 litres of diluted product/m2. The required area is to be sprayed thoroughly with the diluted product 3 times the first week and then to be applied once a week. The frequency of treatment can be increased if necessary (larger livestock, warmer periods).
---
Registration, documentation, reports:

FermentStart NEBIH forgalomba hozatali és felhasználási engedélyokirat

FermentStart engedély Magyar58.91 KB

FERMENTSTART BIZTONSÁGI ADATLAP
Webshop: rendelje meg most a készítményt.